Products You May Like
Kevin Love is hurt again and Collin Sexton seems frustrated that one of his highest-paid teammates can't seem to stay on the floor.
Things have been far from smooth for the Cleveland Cavaliers this season. After winning their first three games and playing with vastly improved effectiveness at the defensive end, they've tailed off dramatically. They're 11-24 since that hot start, they've already made a big trade, acquiring Jarrett Allen and the rest of their frontcourt rotation has been on the trading block, very publicly, for weeks.
One of the few bright spots has been the sparkling play of third-year guard Collin Sexton, who has asserted himself as a dynamic, throw-back scorer. Sexton is leading the team in scoring, averaging 23.7 points per game on a 57.2 true shooting percentage, both career-highs. But this week, Sexton may have quietly made some waves for all the wrong reasons.
Collin Sexton needs to be careful what posts he's liking on Twitter
An eagle-eyed Redditor that Sexton had used his personal Twitter account to like a Tweet that stated "Kevin Love stole $120 million from the Cleveland Cavaliers. Heist of the century."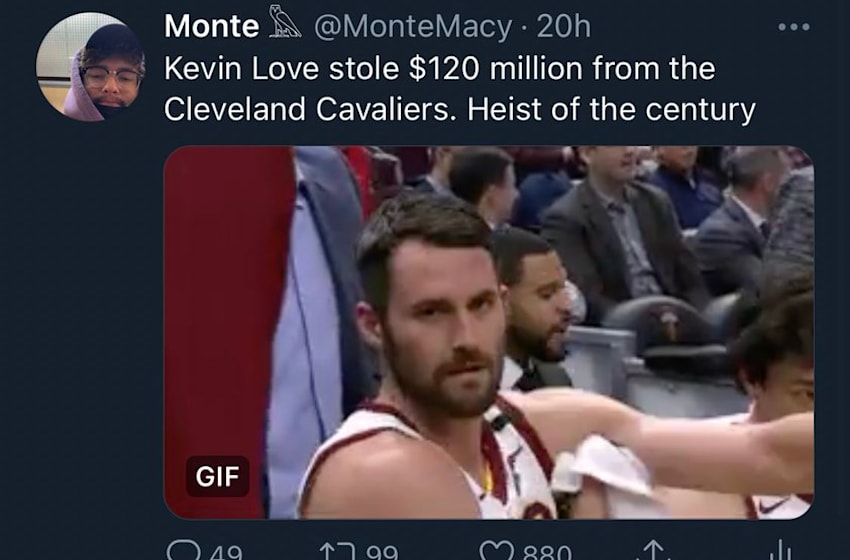 The original Tweet came after Kevin Love played a grand total of 101 seconds Sunday against the Atlanta Hawks before leaving with a calf injury. Because of injury, Love has only appeared in four games all season. This latest injury will likely depress his trade value even further, increasing the likelihood that he and Sexton finish the year as teammates.
Love signed a four-year, $120 million extension with the Cavaliers in the summer of 2018, the same offseason they drafted Sexton. He still has two years remaining on the deal, for just over $60 million. And in the two-and-a-half seasons he and Sexton have been teammates, Love has been healthy enough to play just under 2000 minutes with Sexton (about a one normal season's worth).
Sexton certainly has a right to feel disappointed but Love can't exactly help the ways in which his body has betrayed him. It's not like he wants to keep getting hurt or isn't putting the work in to get healthier. In the grand scheme of things, this a small online nothing-burger. Here's hoping everyone in the Cavs' locker room can treat it that way.